More >
Prosecuting Attorney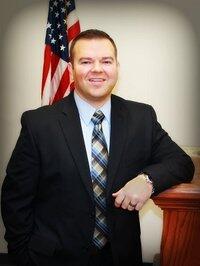 Dustin Dunklee, Morgan County Prosecuting Attorney
573-378-4694
ddunklee@morgancountymo.gov
Dustin G. Dunklee is presently serving in his second term as Morgan County Prosecuting Attorney, having first been elected in 2011. He previously practiced law with the firms of Andereck, Evans, Milne, Peace and Widger, LLC, in Jefferson City, Missouri; McDorman & Hayden, LLC, in Versailles, Missouri, and McDorman & Dunklee, LLC, Versailles, Missouri.

After graduating from the University of Missouri School of Law in 2004, Dunklee began his legal career as an Associate Attorney with Andreck-Evans in Jefferson City, Missouri, serving as a law clerk from 2001 to 2003 and as an attorney from 2004 to 2006. In 2006, he returned to his hometown of Versailles, Missouri, to practice as an attorney with the firm of McDorman & Hayden, LLC.

Dustin has also spent the last twenty years in the U.S. Army (both Army Reserves & Missouri National Guard). Dunklee began his career in the Army Reserves as an enlisted Soldier with the 4228th MASH unit in Columbia, Missouri. After graduating with his law degree in 2004, Dunklee was commissioned in the JAG Corps as a First Lieutenant in the Missouri Army National Guard. Dunklee currently holds the rank of Major and is the Senior Defense Counsel for the Missouri and Nebraska Trial Defense Team. As Senior Defense Counsel, Dunklee manages three other JAG officers in both Missouri and Nebraska where they are assigned to represent Soldiers that have had administrative action taken against them. In 2012, Dunklee was deployed with the Missouri Army National Guard in support of Operation Enduring Freedom to Camp Buehring, Kuwait, where he served as Trial Counsel for the 35th Combat Aviation Brigade.

Dunklee is a member of the Missouri Association of Prosecuting Attorneys, the Missouri Bar Association, the 26th Judicial Circuit Bench and Bar Association and the Board of Directors of Citizen's Bank of Eldon & Versailles.
​
For more information about the Prosecuting Attorney's Office on Facebook click here.